[Sarah] Hi I'm Sarah Wagner
[Kevin] And I'm Kevin McGowan.
Welcome to the Cornell Lab's comprehensive Ornithology course.
[Sarah] Together we'll delve into the most fascinating phenomena the bird world has to offer.
[Kevin] You are following in the footsteps of thousands of other bird enthusiasts and budding ornithologists who have transformed their understanding of the avian world with this course over its 45-year history.
[Sarah] You'll be using the newly-revised and updated Handbook of Bird Biology as your guide, along with a wealth of new online learning tools that we've designed to expand your bird knowledge.
[Kevin] You'll come away with a deeper understanding of avian behavior, anatomy, ecology, and conservation.
[Sarah] And it's self-paced so you can study anytime, from anywhere.
We know you'll enjoy learning with us.
End of transcript
The Cornell Lab's Ornithology: Comprehensive Bird Biology course deepens your understanding of birds and helps you master everything from anatomy and behavior to ecology and conservation. Worldwide in scope, the experience you gain will broaden your bird knowledge and give you a strong foundation in all things avian.
You will be following in the footsteps of thousands of others who have transformed their perspective on birds with this self-paced university-level course over its forty-year history.
Transform your understanding of birds
Study birds with the comprehensive ornithology course from the Cornell Lab using the Handbook of Bird Biology, 3rd. Edition as your guide.
Study biology from a bird-centered view
Deepen your knowledge of flight, migration, vocal behavior, taxonomy and more
Amplify your learning with custom videos, animations, and interactives
What's Inside
This course steps you through each chapter from the textbook. Lessons contain a short video from your instructors introducing key insights and curated collections of online resources to expand your knowledge base. Exams are divided up into individual quizzes that take 15-20 minutes to complete and provide immediate feedback to correct misconceptions and reinforce important facts. An expanded online glossary helps you learn how to express yourself like an ornithologist. You will also have the opportunity to have your questions answered by course instructors.
Meet the Course Instructors
Dr. Kevin McGowan
Professional Ornithologist, World Series of Birding Champion
Course instructor Kevin McGowan combines deep knowledge about birds with a passion for helping others learn. He is a professional ornithologist at the Cornell Lab of Ornithology and one of the world's foremost experts on the behavior of crows. Kevin is also an accomplished birder and World Series of Birding champion. Among his contributions to Bird Academy, he created the popular Be a Better Birder series of courses and live webinars and co-authored the university-level Ornithology: Comprehensive Bird Biology course.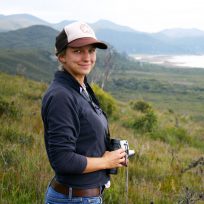 Dr. Sarah Wagner
Professional Ornithologist, Expert in Foraging Behavior
Dr. Sarah Wagner is a course developer for the Cornell Lab's Bird Academy. An accomplished field researcher specializing in feeding biology of birds, Sarah has worked all over the continent and has years of professional experience identifying birds by ear. She is co-author of the Cornell Lab's university-level online Ornithology course and a public educator in the Lab's visitor center.
Course Overview
Chapter 1—Why Study Birds?
Dive in to the exciting world of ornithology and the variety of ways you can engage with birds, from observing birds at your feeder or in your local park, to contributing data to citizen-science projects and designing studies of your own.
Chapter 2—Avian Diversity and Classification
Get to know the fascinating variety in the avian world and get up-to-date on how scientists use genetics and other methods to organize the roughly 10,000 recognized bird species into a coherent taxonomy.
Chapter 3—How Birds Evolve
Explore the evolutionary patterns that have resulted in the bird species on the planet today. What better way to learn about natural selection, sexual selection, and speciation than through fascinating examples from the world of birds?
Chapter 4—Feathers and Plumages
Dive in to feather structure, evolution, development, and replacement. You'll also learn how feathers achieve the vivid colors and patterns we enjoy in birds, and how the birds use them for concealment and communication.
Chapter 5—Avian Flight
Get familiar with the biomechanics of flight and learn the biology and physics behind one of the most thrilling attributes of birds—their ability to defy gravity.
Chapter 6—Avian Anatomy
Learn about the remarkable structural adaptations of birds. From a lightweight skeleton to an unusual respiratory system, birds have evolved a variety of anatomical marvels to help them survive and thrive.
Chapter 7—Bird Physiology
Delve into how birds have evolved the ability to live in nearly every habitat on Earth while regulating their internal environments and maintaining homeostasis.
Chapter 8—Avian Food and Foraging
Learn what birds eat, how they eat it, and why they eat certain things at certain times. These details can help you understand their interactions with other individuals, other species, their environment, and even their evolution.
Chapter 9—Avian Mating and Social Behavior
Explore the the diversity of mating systems in birds. You'll also learn how birds select mates and the evolutionary underpinnings of mate preferences.
Chapter 10—Avian Vocal Behavior
Discover we know about the meaning and function of the songs and calls that birds make. Explore the fascinating process of song learning and the basis for large repertoires and regional dialects.
Chapter 11—Breeding Biology of Birds
Learn how birds have evolved different reproductive strategies in a variety of environments as well as why some bird species give their young no parental care, while others care for their offspring until they are ready to fly off on their own.
Chapter 12—Avian Migration and Dispersal
Explore the many ways birds navigate, look at the experiments that have helped scientists to figure out how birds find their way, and get to know why some species migrate thousands of miles, while others only disperse short distances.
Chapter 13—Ecology of Bird Populations
Explore how we study birds by measuring nest success and various factors, such as disease, that limit their success. Find out how and why bird populations change over time and space.
Chapter 14—Bird Communities
Get familiar with the different ways bird species interact with one another, from predation to brood parasitism. You'll also learn how some species influence where other species forage, nest, and even where they live.
Chapter 15—Bird Conservation
Explore our historical relationship with birds and where we are now in our scientific efforts to understand and protect them. Come away with helpful and empowering ideas about what you can do for conservation.
Required Textbook, Sold Separately:
Written by the world's leading ornithologists, the Handbook of Bird Biology is an essential reference to a thorough understanding of birds. For more than 40 years budding ornithologists and bird enthusiasts have been expanding their understanding of avian life with the Handbook. Newly revised and now in full color, the 700 page Handbook of Bird Biology, 3rd Ed. is the required text for this course, and is sold separately from the course. You can buy the text through the Cornell Lab's online gift shop, or through other outlets.
Course Format
The course is entirely online and self-paced so you can take it at your own speed and come back to it as often as you wish. Custom practice tools, instructional videos, and quizzes help you gain skills and understanding. All the material is available through your web browser, no downloads required and nothing is shipped. Videos are closed-captioned. For your convenience, the course is designed to work on all modern web browsers and devices. Access does not expire.
You may opt for receiving a certificate for completing the course. Continuing Education Credits are available Cornell University does not offer academic credit for this course.
Hear What Students Have to Say
The chapter companion videos and articles were amazing. They greatly enhanced the relatability of the textbook to what is happening around me in the field and within my local community." Bird Academy Student
I thought this course was exceptional. I actually enjoyed reading the text book from cover to cover and using some of what I learned to enhance my observations of birds and overall knowledge." Bird Academy Student
This course was excellent. It was very comprehensive and covered all aspects of birds. The quizzes were tough but ensured you recalled the important materials in each chapter. The extra materials included with each chapter were helpful in understanding the concepts presented in each chapter." Bird Academy Student
I felt each chapter was as interesting as the next and all of the tools and additional resources are fabulous contributors to my ongoing education in ornithology. I plan to strengthen my identification skills and understanding of as many species as possible. I hope to help preserve as much habitat as possible and see as many marvelous birds as I possibly can. Thank you for this amazing opportunity." Bird Academy Student
CREDITS
Course credits

Course authors: Dr. Kevin McGowan, Dr. Sarah Wagner
Course editors: Dr. Kevin McGowan, Dr. Mya Thompson,
Project managers: Dr. Mya Thompson, Dr. Kevin McGowan, Dr. Nancy Trautmann
Instructional designers: Dr. Mya Thompson, Jeff Szuc
Content manager: Lee Ann van Leer
Web designer: Jeff Szuc
Web programmer: Noah Warnke
Scientific illustrator: Andrew Leach
Video producers for Lesson level videos: Karen Rodriguez, Dr. Mya Thompson
Video editing for Lesson level videos: Karen Rodriguez
Videography for Lesson level videos: Christopher Foito
Video transcript editor: Noah Warnke
Advisors: Alex Chang, Diane Traina
Copy editor: Pat Leonard